I love the SoHo Pet Carriers. Vibrant Colors with a simple but gorgeous design.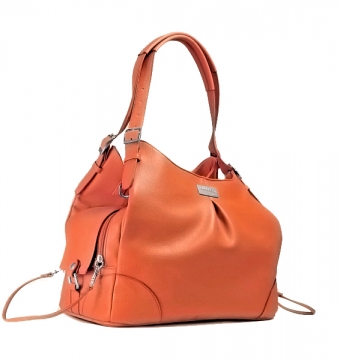 Smooth and buttery-soft pebbled Pleather
forms an envelope for this roomy hobo style carrier.
The outer blouson pleated pockets on each side of the carrier are equipped with
magnetic pocket closures. The pockets are 9" deep with smaller inner pockets
for other essential items. The SoHo is lightly structured with adjustable handles.
An optional shoulder strap increases the versatility of this chic piece. The inner
compartment is roomy, comfortable and safe for travel with your furry friend.
SoHo Pet Carrier – 15" W x 8" H (8" – 10") x 8" D
Weight: 3.4 lbs
Removable foam 1.5" thick pillow
Shoulder strap
Safety tether
• Soft and subtle yet durable material
• Flexible structure
• Light weight
• A lot of pockets for pets and personal items
• Hidden pockets on both sides of the carrier for incidentals
• Padded interior for pet comfort and safety
• Interior pet safety strap fastener
• Carry handles with padded grips
• Shoulder strap
Lime Green – Lilac – Tangerine
• Holds up to 10 lbs
Can be used on airlines, check with your airline
for specific sizing requirements